Новости
Новости
29.05.2012
18.05.2012
С сегодняшнего дня мы начинаем принимать заявки по доставке мерча "под заказ". Теперь наш каталог состоит из более, чем 2000 наименований мерча от более, чем 300 групп, и доставка заказанного мерча осуществляется после оформления заказа в течение 3-6 недель (сроки могут варьироваться в зависимости от Вашего местонахождения). 

09.05.2012
02.05.2012
Компания JSR объявила о выпуске новой коллекции мерча Behemoth, состоящей из мужских и женских футболок и балахонов. Новый мерч уже доступен к заказу на нашем сайте!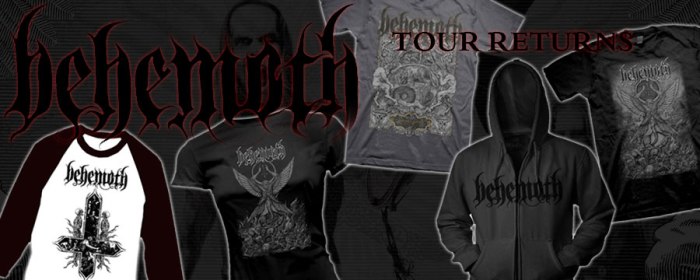 10.04.2012
На склад в Москве поступило более 150 новых дизайнов мерча от более, чем 50 групп! Приятных покупок!
17.02.2012
В нашем магазине появился официальный мерч Muse - мужские и женские футболки, балахоны и различные аксессуары по ценам официального магазина Muse в США! Все товары есть в наличии на складе в Москве!

16.02.2012
25.01.2012
На склад в Москве поступил новый мерч более 90 групп, среди которых 30 Seconds To Mars, AC/DC, Agnostic Front, Arch Enemy, As Blood Runs Black, As I Lay Dying, Attack Attack!, Bring Me The Horizon, Bullet For My Valentine, Chelsea Grin, Despised Icon, The Devil Wears Prada, Disturbed, Dropkick Murphys, Godsmack, Guns N' Roses, HIM, I Declare War, Job For A Cowboy, Joy Division, Korn, Led Zeppelin, Madball, Metallica, Misfits, Miss May I, Muse, Nirvana, Pantera, Pink Floyd, Rage Against The Machine, Ramones, Rob Zombie, Rolling Stones, Slayer, Slipknot, Suicide Silence, System Of A Down, Trivium, Whitechapel и другие!
20.01.2012
Обращаем Ваше внимание, что с сегодняшнего дня наш магазин начинает работать по принципу "всё в наличии"! Теперь Вам не нужно ждать неделями, пока заказанный Вами мерч будет доставлен из США - все товары из нашего каталога находятся в Москве и могут быть доставлены сразу после оформления заказа! В ближайшее время и каталог мерча, и размерный ряд товаров будут существенно расширяться и каждый сможет найти что-нибудь для себя!